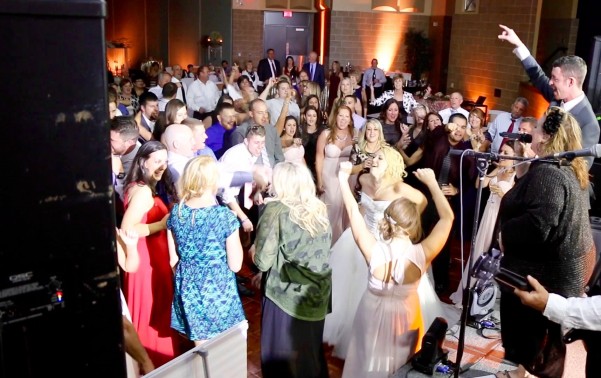 Why hire The Lisa René Band for your special day?
Let us count the reasons!!
Amazingly full sound with all your favorites for a fraction of the cost of an orchestra.
For not much more than a DJ, you get a LIVE show with an added dimension of entertainment for you and your guests to enjoy.  There just is no comparison to the energy a live band provides at an event!
Hands down, the best female vocals in Chicagoland!
You get to work DIRECTLY with Lisa!…She'll help you customize your reception just for your tastes!  You'll get to relax, have fun and enjoy knowing she's on top of it!!  (And she's also available to emcee your reception for you if needed!)
You'll enjoy both female and male strong lead vocals, allowing for a huge variety of music – from old school to new school!
The band members you see are the band members you'll get!  They are fun, friendly, professional, polished and classy!
Almost 300 songs to choose from!…There is truly something for everyone!  The band is constantly and consistently learning new songs.
Don't see a song on our band songlist you want?  We'll learn it for you or be sure to play it on our continuous break music DJ option!  You get ALL the songs you want and continuous music to keep your dance floor jumping all night long!
We have several dinner music options, many at no additional charge!
Your guests will have a blast and will be talking about your reception for years to come! Overtime and keeping 'em dancing all night long is our specialty!!
We pay a referral bonus should you recommend us to your friends!
Members of the Lisa René Band have been playing together for over 15 years!  They are comfortable and have fun with each other (and with the guests!)…and it shows!!
How do You officially book the band for your wedding?
Contact Lisa NOW and verify your wedding date availability and provide your reception location and pertinent information.  Please be sure to also include how you heard about the band and any specific referral names.  (Should you choose to officially book the band and secure a contract for your date, your referral will receive $50 for their kind referral of the band as a thank you).
Set up your FREE consultation to discuss package options, preferences, pricing and your vision of your big day.
A temporary "soft" hold may be put on your date for you, if possible.  Dates can only be held for up to 2 weeks.  (This usually is not possible during peak wedding months and for Saturday evening weddings.)  During that 2 week hold period, where possible, Lisa will contact you should another party inquire about your wedding date to give you right of first refusal.  Please note:  holds are not guarantees that the date is officially yours and we book dates on a first come, first served basis.
If you haven't done so already, we encourage you to see the band live and in action.  Ask Lisa about possible upcoming public performances or other possible viewing options if needed.
Should you decide the Lisa René Band is the perfect fit for your special day, let Lisa know and a contract will be issued for your reception date and specifics.  At that time, your date is put on official "HOLD" and cannot be booked out from under you.
Once the signed contract and deposit are received, your date is OFFICIALLY booked.  (We book on a first come, first served basis)
---
Wedding Testimonials
<See more video testimonials>
Lisa surpassed every expectation that I had! She was an absolute pleasure to work with and was never anything but friendly, accommodating, and completely committed to having the wedding day go as smoothly- and be as much fun- as possible!  I appreciated her proactive approach to seeking me out to insure we had the proper song lists, plans, and expectations in place far in advance for the wedding so that everything ran smoothly.  We picked out songs from their very inclusive song list that we really wanted to hear during the night.  Lisa was always available for questions and was willing to work with me to make that day special.  My husband and I wanted our first dance to be The Way You Look Tonight (Frank Sinatra) but that song was not on their songlist.  I didn't want to dance to a CD and Lisa offered to learn it for us- wow! 🙂 She offered to do announcements at the wedding and "MC" the toasts etc. which was wonderful.  It was so nice to not have one more thing to coordinate! 🙂
Lisa did a wonderful job coordinating the wedding party announcement and announcing the various toasts. She got my whole bridal party in line to come into the reception and was nothing but friendly and joking around as she got us all organized (of course an easy task!) 🙂 They played background "dinner" type music after the toasts during dinner which was nice to have. After dinner….the party STARTED! 🙂 The band was upbeat, fun, energetic, and ROCKED the party! 🙂 The songs that they played worked wonderfully with my college friends, younger cousins, aunts/uncles, neighbors, and grandparents! Lisa came out onto the dance floor occasionally and "worked" the crowd and kept the enthusiasm, dancing, and fun alive! They played the songs that we had highlighted before hand that we wanted to hear- as well as throwing in others that worked perfectly into the flow of the evening. Everyone was having so much fun that we used the option the band has to extend the time they played for another 30min- which was COMPLETELY worth it! 🙂 You only get married once and the party was going until the very end! 🙂 I truly received so many unsolicited compliments and comments on how much fun our reception was and I credit that to the mood set by the band. My husband and I are in that "wedding" phase of life where everyone we know is getting married. In my opinion, having a fantastic band/music is so important to a great party and I have not seen anyone be able to get a party going like the Lisa Rene Band. That is why my sister had them at her wedding and some of my friends that heard them at our wedding go out to hear them when they play downtown Chicago. I would recommend the Lisa Rene Band to make your reception memorable to anyone anytime!
Helen & Phil Driskell
<Read more testimonials>
[rev_slider weddings]