Please visit the Lisa René YouTube Video Channel to view many video clips in the following categories…and then some.
There are many video options on the Channel to view within each category listed below. Here, on this page, you can click directly on a few samples from each category.
(Please note, many of these are all "raw, unedited" videos, many taken straight from Lisa's phone. The quality may not be the best, but you will definitely get a feel for moment in time that is captured. Enjoy!)
---
Wedding Reception Performance Clips
---
Video Testimonials
---
The Lisa René Band Official Promotional Video (recorded recently at a local festival, opening for Pat Benatar)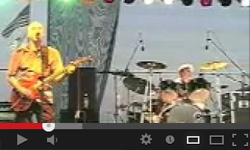 ---
---
Live Concert Performance Clips
---
Corporate Function Performance Clips
---
Typical Lisa René Band event performance endings!!
---
Be sure to check out ALL of the many videos on our
LisaReneVideos YouTube Channel.