Due to the fact that The Lisa René Band has an EXTENSIVE song list with a variety of musical choices (literally something for everyone!)…they are a FANTASTIC festival band and ready to rock your outdoor event!!
Festival/Outdoor Testimonials

The Lisa René band is hot, literally with the heat outside. Lisa and the band keeps a cool performance in the outdoor summer heat with one of the widest ranges of song coverage that pleases every crowd. The band has been with us at Castaways @ North Avenue Beach since it's opening and continually for 10 years, one of the few bands to return to perform each and every year. The band has also performed at the Navy Pier Beer Garden for several years.
Lisa's vocals are amazing! Add in the bands solid music performance and back-ups with the large repertoire of songs and they become a perfect fit for any venue or private event, always adjusting to what the crowd is responding to. Lisa knows how to get a crowd going and singing along with the classics and keeping up with the current hits. Some of the most professional and pleasant people I've had the privilege to work with each season, year after year.
Bill Prahofer, Stefani Restaurants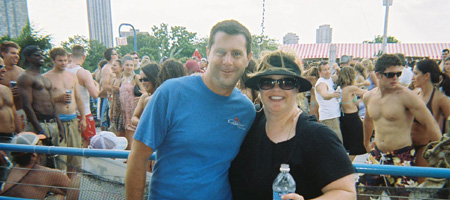 <Read more testimonials>
Some previous and repeat Festival/Outdoor clients:
Taste of Chicago (4 years)
Navy Pier Beer Garden (5 years) & (Private events as well)
Castaways at North Avenue Beach (11 years – multiple visits each year)
Chicago White Sox Pre-Game shows (5 years – plus playoffs!!)
Party in the Park – Arlington Racecourse (2 years)
Edison Park Fest – Edison Park (2 years)
Eyes to the Skies – Lisle (2 years)
Blarney Island – Antioch (4 years)
Heritage Fest – Downers Grove (2 years)
Old St. Pat's – World's Largest Block Party
Crestwood Fest – Crestwood
Bartlett Fest – Bartlett (2 years)
Old Canal Days – Lockport * Sycamore Park District (4 years)
Bolingbrook Concert Series & Pathways Parade – Bolingbrook (4 years)
Hickory Hills Concert in the Park – Hickory Hills (3 years)
Brookfest – Brookfield * Woodridge Jubilee Fest
Glendale Heights Fest – Glendale Heights * Oak Brook Park District
Taste of Suburbia – Schiller Park * Woodridge Park District
Darienfest – Darien (3 years) * Munster, IN Park District
Elburn Fest – Elburn * Dundee Township Outdoor Concert
Founder's Day Fest – Algonquin * Lincolnwood Park District
Hillside Concert in the Park – Hillside (2 years) * Deerfield Park District
Taste of Hillside – Hillside * Bloomingdale Park District (2 years)
Taste of Lombard – Lombard * Lake Bluff Park District
Taste of Joliet – Joliet (3 years) * Cary Park District
Village of Arlington Heights Concert Series – Arlington Heights
Summerfest – Westmont * Buffalo Grove Park District (2 years)
Party in the Park Fest – LaGrange Park * LaGrange Park Park District (3 years)
Huntley Fest – Huntley * Burr Ridge "Under the Stars" (3 years)
Bolingbrook Jubilee Fest – Bolingbrook
The Broken Oar – Cary (3 years) * Lake Bluff Park District
Numerous Church Festivals, including:
Our Mother of Good Counsel Fest – Homer Glen (4 years)
St. Barbara's Parish – Chicago (2 years)
Immaculate Conception Fest & St. Thecla's Fest – Edison Park (3 years)
Various Neighborhood Outdoor Block Parties
The Lisa René Band Official Promotional Video  (recorded recently at a local festival, opening for Pat Benatar)
Festival/Outdoor Clips
<See more videos>
[rev_slider festivals-outdoors]