Corporate Events, Casinos and Fundraisers
Lisa's captivating stage presence and personality melt the barrier between just attending a Lisa René show and truly being a part of it.  The band's ultimate goal is for you to sing along, dance and have fun!! The Lisa René Band is one of Chicagoland's hottest variety bands, providing a high-energy show with something for everyone.  Lisa's powerhouse yet versatile vocals, combine with strong male vocals, lush intricate harmonies, a tight rhythm section, and a remarkably full sound. In addition to being talented, these friendly, easy-to-work-with musicians are professional, polished and classy without being stuffy.  With their years of experience and extensive repertoire, coupled with precise attention to detail and your input, the band is excellent at tailoring each show to the client's tastes or style needs, or the event's feel, theme or tone. The band's ultimate goal is for you to have fun…each and every show is custom-designed to make you have a good time and dance the night away! With such a diverse and extensive song list and the ability to "read a crowd", the Lisa René Band is the perfect choice for entertaining at a corporate function, fundraiser or private event.  Lisa works closely with the event coordinator to be sure that the song selection, feel and tone match the planner's vision.  The band has performed at many themed events, whether it be a corporate holiday party, Halloween fundraising costume gala, Masquerade Ball, 80's, Disco, Country or Roaring 20's event.  Have a theme you're working with?  Let Lisa know and she'll work with you to incorporate your theme with music, attire, DJ options, etc.
With the Lisa René Band, you can rest assured that:
all of your guests will be involved, engaged and having fun
the  event will run smoothly
the band members will be easy to work with, professional and accommodating
coordination will be organized, easy and fun
Lisa is also available for Emcee or Live Auction services if needed.
Corporate Testimonials

We've invited the Lisa Rene Band to play our holiday party for several years now and each show is better than the one before!  Led by one of the most impressive voices you'll ever hear live, the very talented group is able to play a variety of songs that are sure to appeal to almost any crowd.  The band is able to get people on the dance floor and keep them there until the end of the event!  They're dependable, fun to work with, and simply put – the Lisa Rene Band ROCKS!
C. Taylor. – Jump Trading, Chicago

<Read more testimonials>
Some previous and repeat Corporate Clients:
House of Blues, Chicago (one of their corporate/private "house" bands)
Tower Records (including in-store appearances)
Guitar Center (including in-store appearances)
Arlington Racecourse * NRA* Chippery*Wells Fargo* Otis Spunkmeyer*Endurance*Golden Corral*Shedd Aquarium * Harry Carray's, Chicago * 10 Pin, Chicago * Joe's on Weed *
Motorola * Bank One * Abbott Labs*Merck Pharmaceuticals
Museum of Science & Industry*Omni Hotel*Fairmont Hotel
Loyola Hospital * Northwestern Medical Faculty Foundation
Loyola University – Lakeshore & Water Tower Campuses* Filed Museum
Hyatt Regency – McCormick Place * Rockford Country Club * Penninsula Hotel
Home Builders Association of Greater Chicago * Creative Memories
Evanston Golf Club * Hinsdale Central High School * Grand Geneva Resort & Spa Café Brauer – Lincoln Park Zoo * Premier Print * Brookfield Zoo
Chicago Yacht Club * One Smooth Stone * Biltmore Country Club
Transwestern * Aunt Minnie * Jump Trading
Casinos
Some previous and repeat Casino Clients:
Horseshoe Casino, IN
Majestic Star Casino – Gary, IN
Harrah's Casino (now Resorts) – East Chicago, IN
Harrah's Casino Stage 151 – Joliet
Empress Casino, Zanzibar Lounge – Joliet
Hollywood Casino, Joliet and Aurora
Fundraisers and Galas
Fundraiser Testimonials

"The Lisa Rene Band got people out on the dance floor!  I'm so impressed with the range of music they play!  So glad they could be part of our special fundraising event!  They are so professional and easy to work with – they made our evening what it was…Exceptional!"
Annie F- St. Jude's "Believe" committee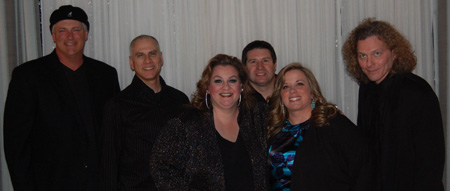 <Read more testimonials>
Some previous and repeat Charity, Fundraiser and Gala clients:
American Cancer Society
March of Dimes
City of Hope
Cystic Fibrosis Foundation
Boys and Girls Club
Search for Stacy Peterson
AFS – Batten Fundraiser
Special Appearances & Accomplishments
WGN-TV Morning News Battle of the Bands
CLTV's Metromix Cable Show
Loyola Organ Donor Awareness Ceremony 2003, 2004, 2005, 2006, 2007
March of Dimes – Auto Show First Look for Charity 2004, 2005, 2006
American Cancer Society–Walk & Roll 2004, 2005, 2006, 2007, 2008, 2009, 2010
Taste of Chicago 2004 – Preview Media Event with Mayor Daley
U.S. Cellular Field – Sox Pre-Game performances 2007, 2008, 2009, 2010, 2012
Lisa MC'd a fundraising event for the "Search for Stacy Peterson" 2008
Opened for Pat Benatar – summer 2008
Played the White Sox Playoff Pre-Game performance – an honor!! – 2008
SOLD OUT SHOW! (600 guests) – New Year's Eve – Hyatt, Lisle – 2008, 2009
Lisa is the voice of "Sessler Ford – Libertyville" Commercial – airing on WGN, NBC, ABC, CBS – 2003.2004,2005
Lisa was a semi-finalist for the Walter E. Smithe Furniture Chicago Superstar jingle competition – 2006
Lisa has recorded local and national commercial jingles and custom corporate convention themes.
Lisa performed in front of 2 waves of 4000 Creative Memories attendees at their national convention in Minneapolis, MN (sang opening & closing songs) – 2007
The Lisa Rene Band was recruited and competed in the national "Safe Auto, Do the Jingle" contest, 2009
The Lisa Rene' Band performed for "A Fifth Season" Fundraiser – which raised $55,000 (award-winning fundraiser) – 2010 also in 2011, 2012
<See more videos>
[rev_slider corporate-events]